How to hook up a 3-way switch
There's usually at least one 3-way switch in a home and at some point it will need replacing. These are the switches that are at either end of a hall or stairway. I'm going to help take the frustration out of the job.

REMEMBER when working with electricity it is important that you turn off the power at the circuit breaker first before starting!

3-way switches have three wires connected to them. Some switches have screws for the connections, others have the wires stabbed into the back of them. Out of the three wires, only one of them is a critical connection wire. That would be the wire that is connected to the "common" connector.
The common connector is indicated by a black screw on the switches that have screws. The switches that have the stab holes in the back have the common connector actually tagged with the word "common" of just "com".

It is very important for your sanity that you indentify which wire is connected to the "common" terminal before removing any of the wires. Always try to disconnect the wires whole rather than cutting them. The wires that are stabbed into the back can be easily removed by sticking a thin small screw driver, (like a jewlers screwdriver) into the tiny "release" hole alongside each inserted wire.



If you had X-ray vision, you could see how the wires are connected, but for people like you and me, here is a diagram that shows how they are connected: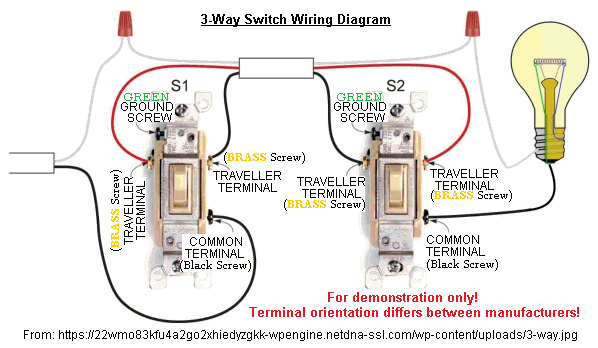 Always mark your wires. If anything, at least mark which wire was connected to the common terminal. The other two wires just talk back and forth between the two switches. They actually can be interchanged.
Only the placement of the Common wire is extremely important. On one side of the circuit, the (HOT) power coming from the circuit breaker is connected to the common terminal of the first switch. The "output" of the 3-way circuit, which comes out of the second switch's common terminal, goes to the center connection of the luminaire (lighting fixture).
One cannot rely on the geographic location of the wires on the switch unless they are exactly the same from the same manufacturer. Since each manufacturer has to make their own patent they do not make the layout universal. The only thing universal is the black screw and the "common" tag of the "common" terminal!
Hope this helps you get your switch sorted out to make a quick and easy replacement!